… a Musical Frog jumping around a harmonic lake!
The MusiFrog is a simple deterministic algorithm that can be used to produce nice pseudo-random melodies that I discovered while experimenting with generative-music (but perhaps someone else has already found it).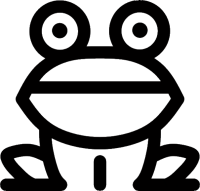 It is based on a frog that jumps over a sequence of stones. Each stone has a jump value and is associated with a musical note. Initially the frog is on stone 1 and suppose it has jump value X. The note associated with stone 1 is played, and the frog jumps forward X steps on stone N=1+X; the jump value of stone 1 is increased by 1. Then the note associated with stone N is played, the frog jump forward according to the jump value of the stone which is then incremented by one. The process is repeated and when the frog jumps off the last stone it "wraps-up" and return to the beginning of the sequence.